If you've been feeling cooped up this spring, make it a habit to dine al fresco this summer. It doesn't matter how you do it: Breakfast on your balcony, grilled pizza by the pool, or a cold brew on the porch. There's never been a better time to eat outside. But before you get started, you're doing to need a few things to make the whole experience just a little more enjoyable. From the stylish hurricane votives to shatterproof wine glasses, here's what's on our must-get list.
When the weather gets hot and dining goes outdoors, the first thing to make sure you have on hand is plenty of liquid refreshment to keep everyone hydrated. Fill a generous beverage dispenser with something tasty and make sure to load up with plenty of ice and cut fruit for cool appeal.
If a gentle breeze wafts over your table when you're dining outdoors, you needn't worry about it snuffing out the glow of candles at the center of your table. These wicker hurricanes from lifestyle maven Aerin Lauder give your setting tropical appeal, while keeping it sophisticated yet casual.
Nothing says 'welcome to my table' better than a large wooden board generously laden with a tempting array of cheeses, fruit and charcuterie. Assembling the right mix of ingredients can be akin to art form, but not difficult to master once you get started. Look for boards with a cloche or dome if flies or bees are pests with whom you don't want to share your table.
This stylish 12-piece melamine dinnerware set is made for eating outside. Every piece has a rustic, earthenware look, but they're totally shatterproof! That means you can eat in style and not stress. The set comes in six different colors and includes four dinner plates, four salad plates, and four bowls. Melamine is the best everyday dinnerware for the outdoor table, so we have many patterns from which to choose. Check them out here.
This hand-crafted cedar cooler holds enough of your favorite beverages to keep your guests well hydrated during the summer months. Even better, it can be personalized with your name or a special message. For something that stays cool without ice, try a sleek outdoor refrigerator for consistent, under-the-outdoor-counter cool.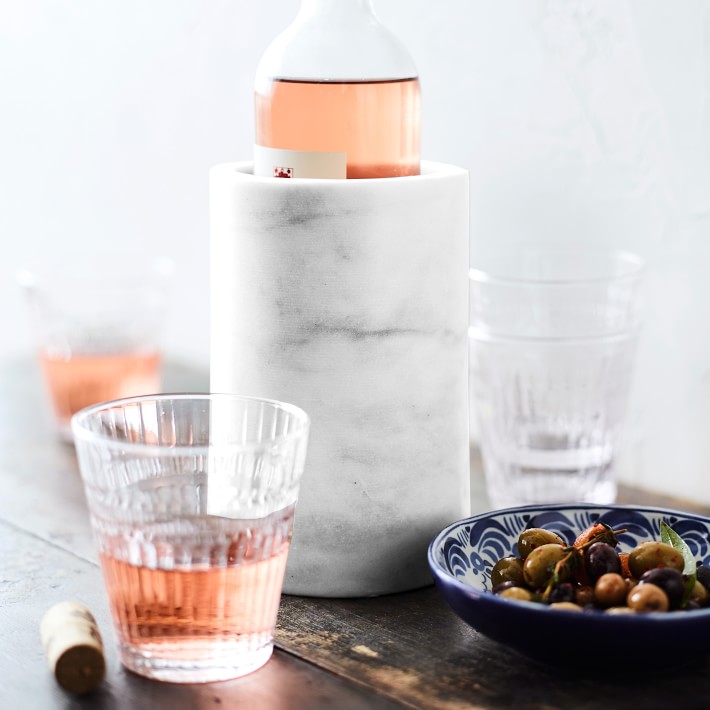 Instead of running back into the house every couple minutes to get the wine from the fridge, or suffering through an increasingly warm bottle of rosé, get a wine chiller for outdoor entertaining! This chic marble option will keep whatever you're drinking cool (just remember to stick it in the freezer an hour before you need it!).
Keep things neat and organized while dining al fresco with the help of our Nito accessories—ranging from the outdoor serving tray here to a handy three-compartment silverware caddy. Each of the durable pieces is handwoven in the Philippines with Nito, a sustainable vine in the fern family.
Stressed about bringing wine glasses outside in case someone drops something? Don't be. These beautiful stemless glasses are shatterproof which means they're great for outdoor entertaining. Each glass is also etched with a floral-fine motif, so they feel a little bit more special.
When it comes to quick clean-up for an outdoor table, tablecloths made from oilcloth can't be beat. Vibrantly colored and durable, oilcloth can be wiped clean with a damp sponge and won't fade in the sun. Or, for a quick pop of color to your patio table, try round woven placemats in a variety of hues. (Both go perfectly with the melamine dinnerware we mentioned earlier.)
There are a few things that just demand to be enjoyed outdoors. Watermelon is tops on the list. Whether you're pouring Watermelon Tequila Punch from the tap kit or nibbling watermelon pops, these handy tools will bring an aura of cool to even the hottest summer days.