OK, OK. We flagged all the great Instant Pot recipes for summer for you. You kept your oven off. It was awesome. Your home stayed nice and cool while you were knee-deep in cheesecake and ratatouille. But now it's fall, and sure, you want to start braising and having Weekend Projects, but if your life is anything like ours, you could stand to save some time.
Nothing is better for that than a multi-cooker or Instant Pot. Beans go from dried to plump and ready to eat in an hour. Chicken cooks through in minutes. It's a dream for saving time. So start 'er up again this fall. Here's what we're eyeing, including a couple of low-and-slow knockouts, too.
Some dishes scream "autumn," and mushroom risotto is one of them. The part everyone loathes? Standing and stirring and tasting and ladling broth. This excellent wild mushroom recipe involves only 20 minutes of hands-on time. Take the stress out of risotto. You deserve it.
Another sweater weather heavy hitter, spiced pumpkin braised pork is a low-and-slow delight. Instead of having the oven occupied for five hours, though, you let our spiced pumpkin braising sauce work its magic in a multi-cooker on the slow-cook setting. If you've never had pumpkin and pork together, let today be the day!
Raise your hand if you're so over your go-to chicken recipe! We're right there with you after summer 2020. The change of pace you need: lemon-infused chicken with French accents like white wine and shallots. Chicken is made for pressure cookers, because it almost never gets dry. We wish we could say that about our beloved Dutch ovens.
Ladies and gentlemen, a pumpkin risotto ready in sixteen minutes. You heard us. Just add water or stock to our beloved pumpkin risotto starter designed for the Instant Pot. Finish with butter and Parmesan. Are they in a restaurant? Your guests will wonder.
Let's be honest with one another: 2020 was the year of a few long braises and elegant dinners, maybe, but is anyone else really into shortcuts right now? There's no shame in frozen dinners, prepackaged meals, and our ultimate mac and cheese starter kit. As is true of chicken, mac and cheese is pretty much made for the IP. It does precision beautifully, and noodles just don't dry out. Yum.
Green beans are another food that go from snappy to mushy in a heartbeat. Instant Pots deliver yet again in this steamed green beans dish laced with bacon, red wine vinegar, and maple syrup. Coarsely chopped toasted walnuts put it over the top.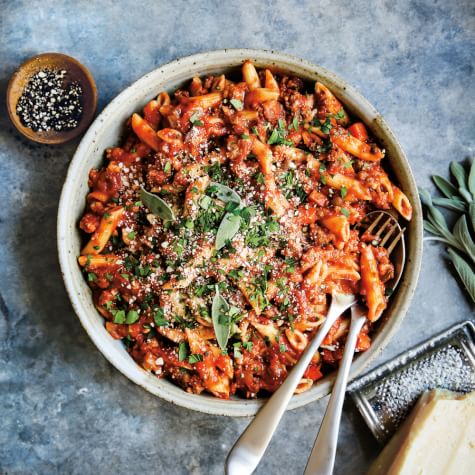 Ever made Bolognese from scratch? How'd your kitchen look afterwards? Bacon spatters in places you thought bacon couldn't reach? A dusting of Parm on every surface? Consider your buddy the Instant Pot for Bolognese next time. You pressure-cook the sauce, saving hours (and yes, it's amazing), tossing the pasta right into the sauce at the end. One pot. No fuss. So good.
Good grief. What can't a multi-cooker do? These three-cheese enchiladas are simply fabulous. The shortcut is the storebought enchilada sauce. (Why not?) They're ready in less than an hour, they all employ one pot, and boy, are they tasty, packed with beans, chicken and cheese.
Hubba, hubba. Dark chocolate pudding spiked with espresso is just as dreamy and elegant as it looks. Use your multi-cooker, have dessert ready in 20 minutes, kick back, and let the compliments roll in.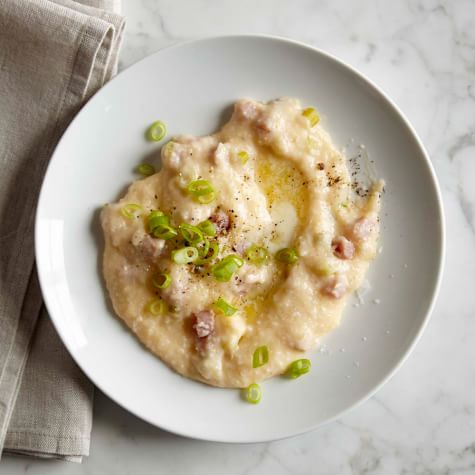 Got a Southerner at your table? Wait till she's tucked into these downright killer grits with ham before telling her you made them in a multi-cooker. (She might insist that authentic grits involve making a big mess of your stovetop!) There's something about keeping all the ingredients inside one of these nifty, high-walled, generally lightweight gadgets that keeps everything a little cleaner. Neat and fast; what could be better for a weeknight meal?