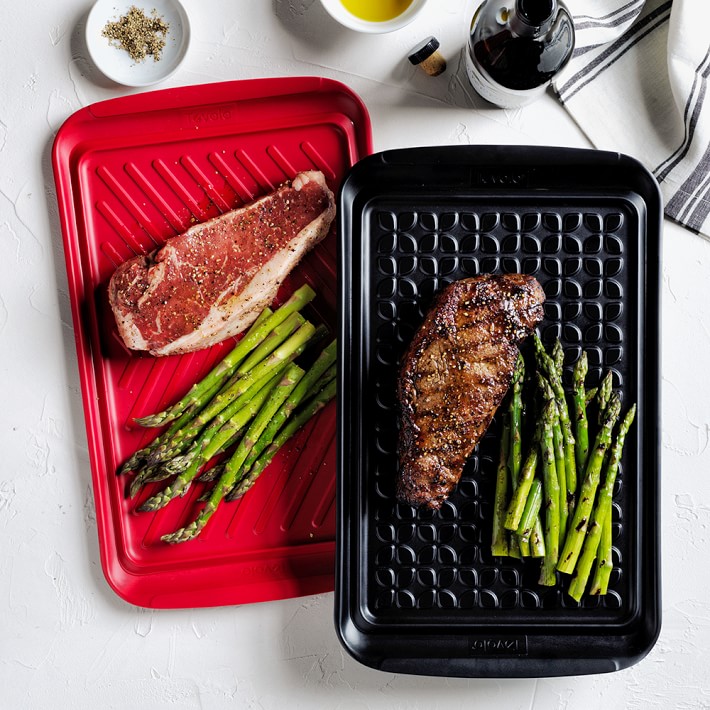 With your grill positioned for optimal shelter (plus gloves and a jacket if the weather turns inclement!), outdoor grilling can be easily accomplished at any time of the year. It doesn't matter if you have a gas grill or a charcoal grill, or if you're vegetarian or a meat-lover, it's always a good time to get outside and cook — especially if you've been feeling cooped up inside lately.
Before you get started on your grill menu, we need to talk tools. It doesn't take much to whip up delicious burgers and vegetable kebabs, but you do need a few essential things to make it all happen. From a grill brush that will make clean up a breeze, to the best outdoor cookware, here are 10 tools to help you grill like the pros.
The first thing you need to buy after a great grill is a set of BBQ tools. This 4-piece set includes everything you'll need: a perforated turner, a grill fork, a brush (with two heads), and tongs. The stylish tools are made of durable stainless steel so you'll have them for years to come.
Your regular oven mitt has nothing on this grill mitt! Made with heat-resistant fibers, the mitt can withstand temperatures up to 475°F. The mitt also works on both your right or left hand and has an extra long cuff to protect your forearms.
Spend more time grilling and less time cleaning thanks to this grill brush. In addition to scrubbing, this brush also steam cleans the grill which helps get rid of extra caked-on food and grease. It's a cinch to use and will make your grill sparkling clean and ready for the next batch of burgers.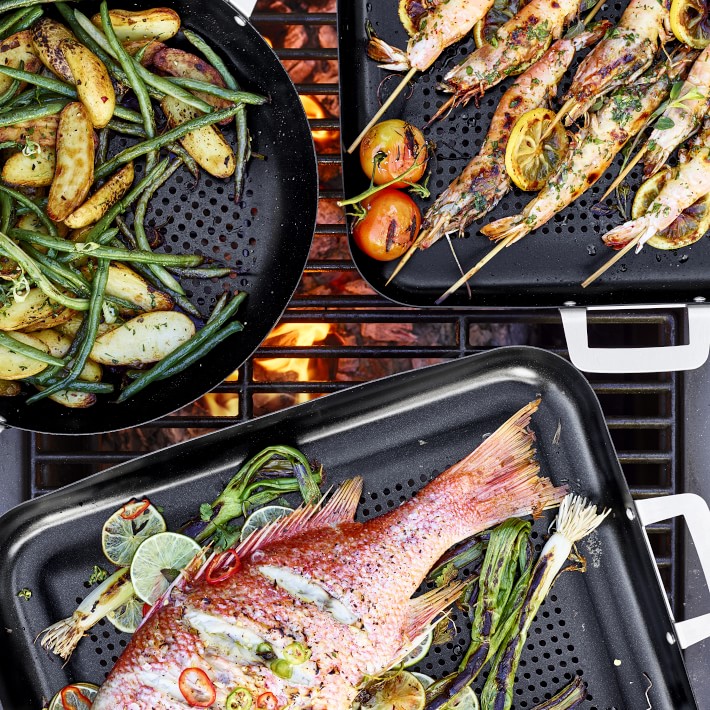 Take your grilling skills up a notch and invest in some great cookware that's designed for the grill. This set from Williams Sonoma includes a skillet, a griddle, and a roaster. The cookware is heat-resistant to 660°F, perforated for even heat distribution, and because it's non-stick it makes for easier cleanup. It's great for just about anything you want to make — fish, vegetables, shrimp, chicken, and more.
Kebabs are one of the easiest, best ways to utilize your grill this summer. There's so many ways to get creative! We love these chicken and zucchini kebabs, these flavorful pork kebabs, and these vegetarian-friendly tofu and vegetable kebabs to start. In order to make your kebab dreams come true, however, you're going to need the tool that literally makes everything stay together: a skewer! These sleek stainless steel ones are something you'll have for a very long time.
Safety first! These lightweight melamine trays help prevent the cross contamination of uncooked and cooked meat while you're grilling. Nestle the trays together with the red tray on top. Put your meat on the red tray and head out to the grill. When your meat is cooked, swap the trays and put your cooked meat on the black tray. Easy, right?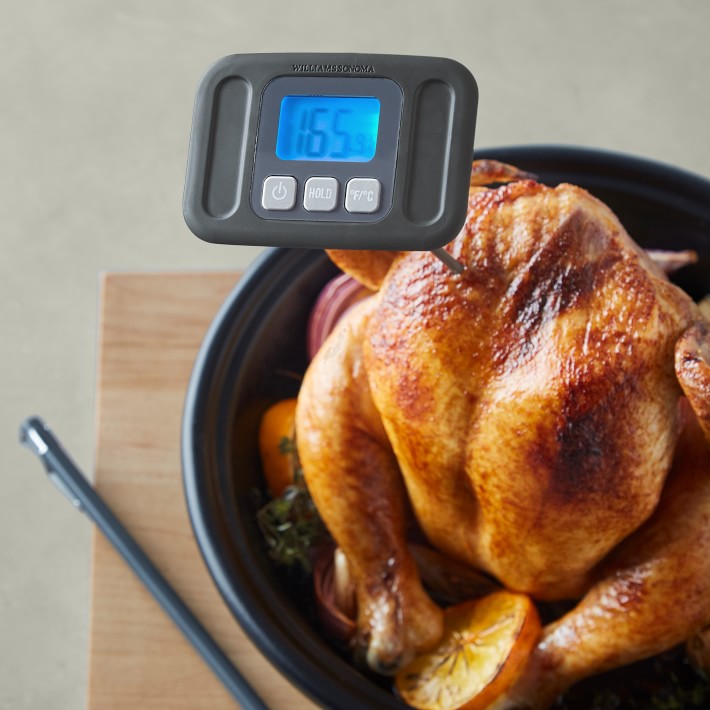 A good thermometer is an essential tool in any cooking situation, and this one from Williams Sonoma is specifically designed for the grill. It has an extra-long probe and an easy-to-read screen so you can stay away from the heat. It measures temperatures from -4°F to 392°F.
Anyone who owns a charcoal grill knows that half the battle of using it is waiting for the briquettes to come to cooking temperature. Make things easier on yourself with this electric lighter! It cuts down on the time and doesn't leave that chemical taste from the grill that you typically get with lighter fluid.
Put this on your summer bucket list: Make the best-tasting smoky dish of your life on the grill! This smoker box can be used directly on the grill to impart a wonderful smokey flavor to whatever you cook in it. Use good-quality hardwood smoking chips that have been soaked in water for the best flavor.
If your summer plans involve lots of pulled pork sandwiches or shredded chicken tacos straight from the grill, then these you need a set of grilling claws. These handheld shredders make pulling apart your meat a breeze. Stop wasting time with a fork!