It's never too early to get your kids excited about being in the kitchen. Whether you're baking cookies, or making pancakes, or hulling strawberries together, cooking with your kids can be fun and also provide them with valuable life skills. If the tiny human in your life is starting to show interest in what you're making, get them involved! Here are 10 great tools that will help.
What's a better way to get your kid excited about cooking than by baking a surprise-inside call with all the sprinkles? This brilliant kit comes from Flour Shop bakery in New York, the brainchild behind all those "exploding" sprinkle cakes you've probably seen on Instagram. The kit has everything you need to make the cake: the vanilla cake mix, two kinds of sprinkles, frosting, and coloring gels. Make it for someone's birthday, or just because.
When it's too hot to turn on the oven this summer, go the no-cook option and make popsicles with your kids. But not just any popsicles: make popsicles that look like their favorite Star Wars character with these awesome molds! Each of the molds comes with a reusable popsicle stick, too.
Whip up a batch of homemade ice cream sandwiches with your favorite ice cream flavors and cookie or brownie batter. Kids can use a prepared brownie or cookie mix if they want, or follow the simple recipe that's included. This stackable mold makes the process easy: First, bake the cookies in the silicone molds, then fill with ice cream and freeze. Fresh, delicious ice cream sandwiches are ready in no time.
Pancakes are a classic thing to make in the kitchen with kids because they're pretty hard to mess up. And with this pancake pen, things can get even more creative! Fill up your pen with pancake batter, and then use it to fill in pancake molds or let your kid draw their own funny shapes.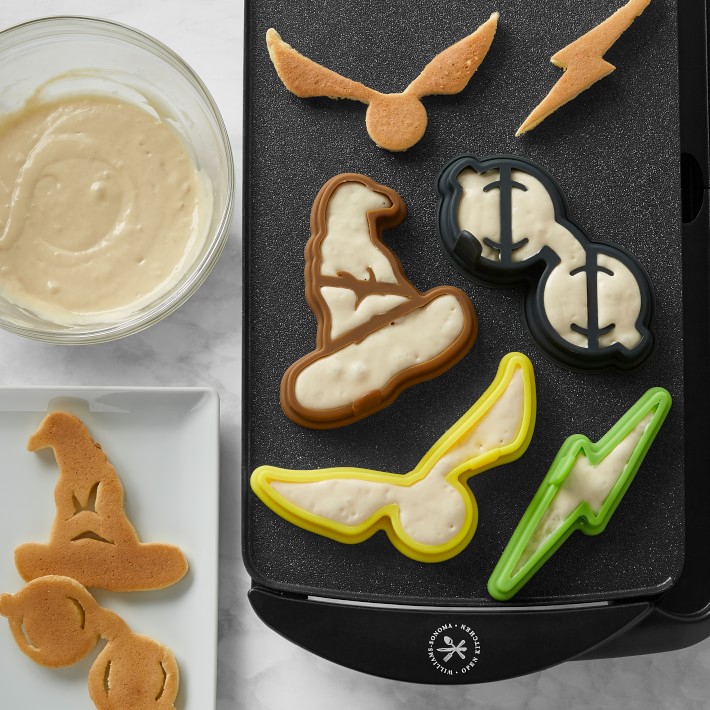 Speaking of pancakes, let's talk about pancake molds. Saturday breakfast isn't complete without them. And you have a lot of options to choose from to have fun with your kids. Dinosaurs? Yup. Unicorns and butterflies? You bet. But if Harry Potter is at the center of your child's universe—and we certainly have plenty of ways to excite Harry fans!—then a stack of Harry Potter-themed pancakes are the only way to go.
Take this old-fashioned apple peeler for a spin and your kids will marvel at how their easy rotation of the handle simultaneously peels, cores and slices—leaving a long curlicue strip of apple peel for them to munch on. Need ideas for all the fresh apple slices resulting from their toil? Check out the full range of our apple recipes!
Get your kid excited about being in the kitchen by giving them their own cookbook and letting them choose a recipe to make every week. The Junior Chef: Master Class includes 75 recipes and has things for all meals of the day (including snacks). It also includes helpful cooking tips, like how to handle a knife.
When you're a kid, there are few things as great as a movie night in which you're amply prepared with plenty of popcorn made just the way you like it. This iconic hand-cranked stovetop popper gets kids involved in the action, keeping the kernels in constant rotation to create the lightest, fluffiest popcorn ever.
As young Padawans prepare to conquer another day, arm them with bread toasted by a Galactic Stormtrooper and emblazoned with a crisp Imperial Crest! A Death Star™ toaster more to your liking? We have that, too! And waffles in the shape of Milennium Falcons™! If thinking like a Jedi Master is what gets your young one ready for the day, we're here to help!
Have your kid help out with prepping strawberries this summer with this handy strawberry huller. It's easy work that will help them feel accomplished. Now, you just need to decide what to make with all those strawberries (and here's some ideas).