Make this year's Christmas one for the books by gathering around the table with friends and family for a Noel-themed holiday supper. This dinner party menu—which would work for either Christmas Eve or Christmas Day—features an impressive standing rib roast that you'll want to carve at the table for dramatic effect, as well as fresh, seasonal sides that round out the meal. For an extra-festive vibe, set the table with your most spirited linens and tableware (for inspiration, shop our collection below). Don't forget the music!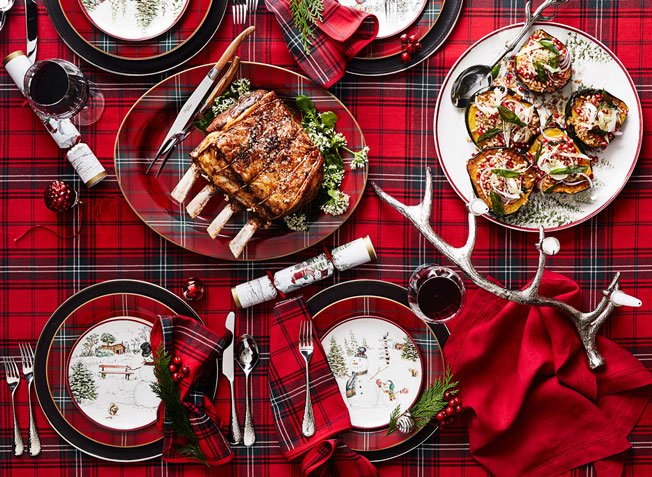 A vibrant reddish-purple winter vegetable, radicchio has an intense, somewhat bitter flavor that mellows deliciously when it is briefly seared over high heat.

This roast acorn squash is stuffed with farro, fennel and pomegranates, and not only serves as a highly seasonal side dish, but also a lovely vegetarian main course as well.

Prime rib—also known as a standing rib roast—is arguably the most signature main course of a traditional Christmas feast. Remember to put in an order for this cut ahead of time.

Potatoes are a classic pairing with a holiday rib roast. Although thyme, rosemary and sage are the herbs you're most likely to see tossed with potatoes, here the use of fresh mint and a bit of grated lemon zest puts a new spin on the classic.

Brussels sprouts get a bad rap, but they can easily become the crowd-pleasing vegetable course when generous batons of bacon get thrown into the mix.

Pots de crème—rich custards that are cooked in a water bath to give them their creamy texture—are even more decadent when flavored with chocolate and topped with nuts and a sprinkling of amaretto-soaked cherries. Be careful not to overcook them; they should still tremble slightly when you remove them from the oven.