If you know Gaby Dalkin, then you know she has a thing for guacamole. The cookbook author and founder of the popular site What's Gaby Cooking is a self-described "avocado aficionado"—she actually wrote an entire book on the subject—and guacamole has proven to be the perfect canvas for her signature style, which is a mix of healthy California color and Southwestern flair. Recently, she threw an outdoor party at her home base of Los Angeles to celebrate the launch of her Williams Sonoma guacamole starter and a duo of flavorful sauces. When she took a break from Instagramming the whole affair, we got to ask her a few questions. Read on for the full interview.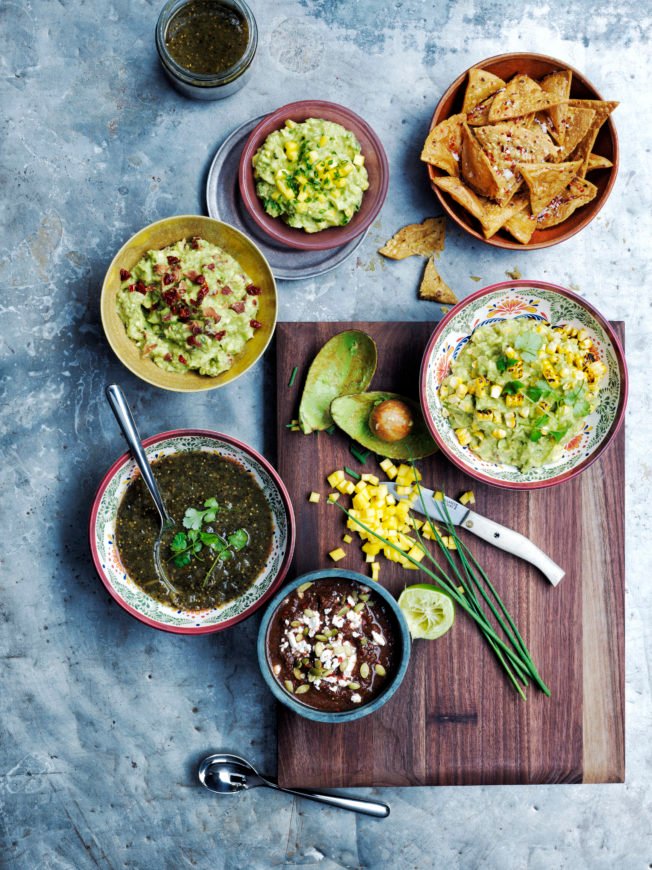 How did you get started food blogging? Tell us about your "I've finally made it!" moment.
Gaby Dalkin: I started my blog almost immediately after college as a way to brag to my friends and family back home that I was learning how to cook. Soon after that, I started culinary school and blogged the whole process, and then further down the road I blogged about being a private chef. Eventually, right around the time my first cookbook came out, I went full time with What's Gaby Cooking and the rest is history. My "I've finally make it" moment was for sure when people would start stopping me in the grocery store, at the farmers market asking if I was What's Gaby Cooking! Still one of my favorite things to date.
You have a well-documented love affair with avocados, beginning with your 2013 cookbook Absolutely Avocados, for which you reportedly consumed 419 avocados during your recipe testing process. What's the deal?
GD: I'm obsessed! I live by the motto "an avocado a day keeps the doctor away." I think it all started back in Arizona when I was a kid, and I'd eat all the guacamole I could get my hands on and that still holds true today. And as far as the cookbook goes, I pitched the idea for that book never dreaming anyone would actually want a book all about avocados. Then much to my surprise my first publisher bought it and then there I was recipe testing 80+ avocado recipes!
So trend experts are dying to know: what's the new avocado toast?
GD: Avocado toast is the new avocado toast! It's never going out of style if I can help it.
You're so open with your followers on social media, sharing tons of behind-the-scenes kitchen moments and real talk on @whatsgabycookin on Snapchat and Instagram Stories. What's it like sharing your whole cooking world on social media?
GD: I love it! It's actually my favorite part of my job because I can personally interact with my readers and help them whenever they need help in the kitchen! Plus, I think it's great to show people how accessible my recipes are! They might look gorgeous and styled, but they also are very easy to make at home no matter what your cooking skill.
Are there any kitchen moments you'd never share on social? Be honest!
GD: Well, there was one day back when I was a private chef that I set the oven on fire. Whoops. I put a baking sheet into the oven with something stuck to the bottom and it caught on fire. I panicked. Thank goodness my client's father was there; he put another baking sheet over the fire to put it out. I was mortified to say the least.
Tell us about the process of creating your guacamole starters and salsas. What was your testing and tasting process like, and what did you want to make sure to get right in the end? 
GD: I'm very particular about my salsas. (My husband once told me I was a salsa snob, and I took it as a compliment!) There has to be the perfect blend of spiciness and flavor, and that's exactly what I looked for when developing these products. I knew my favorite recipes when I'm throwing a party, and I wanted those to be accessible to everyone all over the country, so after a lot of taste testing, here we are!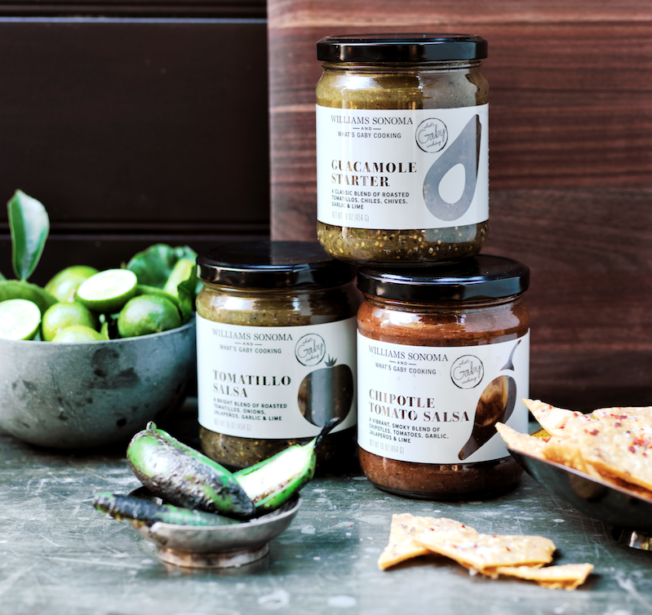 For the shoot you invited over a bunch of your friends to hang out and drink margaritas and dip into a glorious guacamole bar. Any tips for creating a delicious and Instagram-worthy guacamole bar?
GD: Yes! Anytime I'm doing anything that is going to be photographed, published on my site or on social media, it's all about color and texture. Make sure you have plenty of chips, salsas, guacamole, mix-ins and drinks on hand. More is more for me on instagram so I love having a ton of food. Plus, my greatest fear in life is running out of food at a party, so that ensures my fear will never come true!
Of course, living that healthy, California lifestyle is a part of who you are and how you cook. With all the epic food you make, how do you keep everything in a healthy balance?
GD: Balance is such a key part of my life. I'm all about a beautiful salad for lunch and then mac and cheese for dinner and then a long session at the gym the following morning. It also helps that I gave up my car a few years ago, so I walk everywhere (a major perk of living in California) And, since I get asked this question all the time, I have to add that while I do eat every single thing that comes out of my kitchen, I try and reign it in on portion control. Sometimes that's a success, and other times I wind up eating the entire pot of pasta. You win some, you lose some.
Check out Gaby's favorite kitchen products, including her salsas.