Whether you're having your closest friends over for a lazy night in or hosting an elaborate six-course dinner, you'll love our new Sadie Street dinnerware collection from kate spade new york.  The collection of dinner bowls and plates, servingware, flatware and glassware from the iconic and noted design house takes a colorful approach to setting the table.
Table-setting can be a daunting task, so we turned to Abby Larson, founder and editor of the wedding blog Style Me Pretty, for her pointers on taking a table to the next level. She taught us so much we didn't know, from the best way to use greenery at the table to making fine china work in any situation. Keep reading for her best tips.
First, determine the overall vibe of your event. 
"There are so many elements that play into the decision for a formal or casual place setting," Abby says. "First: What is the overall vibe of your event? This is determined by the details that you've woven in, from the menu to the centerpieces, from the napkins you choose to the music that you play."
Still can't decide between formal and casual? Consider the way the meal is being served.
"Generally speaking, if I plan to serve more than two courses, I set the table using a formal place setting," Abby tells us. "If our meal will be served family style or as a buffet, I set a slightly more casual table."
Even in a casual setting, you can still make each guests's space feel special.
One perk of planning for a casual table is that you can take a bit more liberties, as you aren't tethered to every plate or fork. And there can still be plenty of thoughtful details; Abby suggests incorporating calligraphy place cards, sprigs of greenery or blooms on each plate, or a free-flowing grouping of candles layered across the length of the table for a bit of drama. She adds, "It's those subtleties that really elevate a table and invite your guests into an evening that feels far more thoughtful than just any old Friday night."
Fine china can work in any situation.
There are no rules when it comes to using china, Abby insists. "It really comes down to styling," she explains. "Most of the tables that I create in my own home use fine china, then I add details to support the spirit of the event. If we're doing family-style pasta and salad, I might lay the flatware directly on the plate and tie a grosgrain ribbon around it. Instead of a grand centerpiece, I'll do bud vases filled with a single stem in each. There really are no rules!"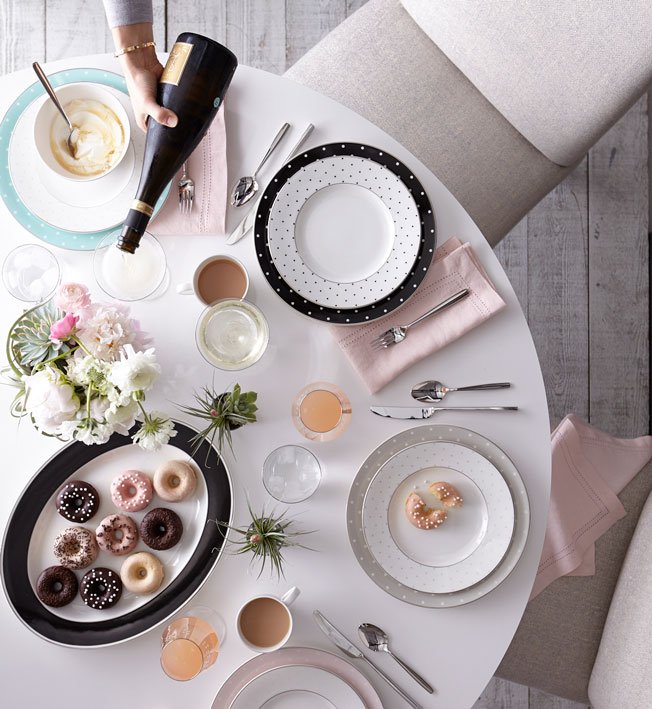 If you're going formal, do it sans stuffiness.
Formal doesn't have to equal stuffy. "Even the most formal of settings can be incredible whimsical and invite your guests to relax into the formality. I think the important thing is to keep things simple and focus on the necessities, such as the glasses, flatware and plates that your guests will use and feel comfortable with. Then, you can add little touches of whimsy with calligraphy name cards (of which I often add a fun quote or a little welcome note), a unique menu or colorful napkins in a modern print."
Don't overthink it all!
The biggest mistake people make, Abby says, is overthinking the place setting. "Sometimes a simple approach is best. If there are too many candles, flowers and other accessories crowding the table, it can overwhelm." As a general rule, make sure everything that you place atop the table is something that will be used while dining. And avoid making the centerpiece too high! After all, she adds, "you want guests to be able to see across the table for dinnertime chatting and cheers-ing."
---
Right now, enter to win The Ultimate Trip to New York from Williams Sonoma, kate spade new york, and Style Me Pretty! The exclusive getaway includes airfare, deluxe hotel accommodations, a $1,000 shopping spree at kate spade new york, a VIP dinner for two at Marta in Manhattan and a set of our new Sadie Street tableware. Enter now through February 28th.