Are you the kind of person who picks out their Halloween costume a year in advance? Or who decorates their house with all sorts of ghoulish finds on the first day of October? We see you, we appreciate you, and we don't need to tell you that it's never too early to start dreaming about Halloween candy. This year, go beyond the standard fare and stock up on these gourmet treats from Williams Sonoma. There's all sorts of different chocolates, gummies, and caramels that will delight kids of all ages. Here, we'll break down your candy options and suggest some fun ways to serve everything.
For Spine-Chilling Chocolate
These foiled chocolate pumpkins, chocolate skeletons, and chocolate ghosts are scary delicious! Made with premium milk chocolate, these sweets would be ideal for trick-or-treat bags, place settings, or as a pick-me-up throughout the day. We're also deadly smitten with these chocolate owls, which are made with white, milk, and dark chocolate. For the more adult crowd, we recommend this Halloween bark studded with skulls, bones, eyeballs, and chewy candy corn. And for the pumpkin-obsessed, it doesn't get better than spiced pumpkin pecan bark and pumpkin spice truffles.
For Blood-Curdling Gummies
If you're looking for the creepiest, crawliest, sour gummies, add these sour pumpkin gummies and sour gummy spiders to your cart. The pumpkin gummies are orange-flavored and coated in sour sugar, and the spiders come in three different flavors: orange/lemon, apple/strawberry and strawberry/cola. For sweet gummies look no further than these frightening strawberry gummy skulls or these soft-but-chewy candy corn gummies. We also can't get enough of this Day of the Dead mache candy ball, which is filled with an assortment of colorful skulls and flowers (oh my!).
For Nail-Biting Caramels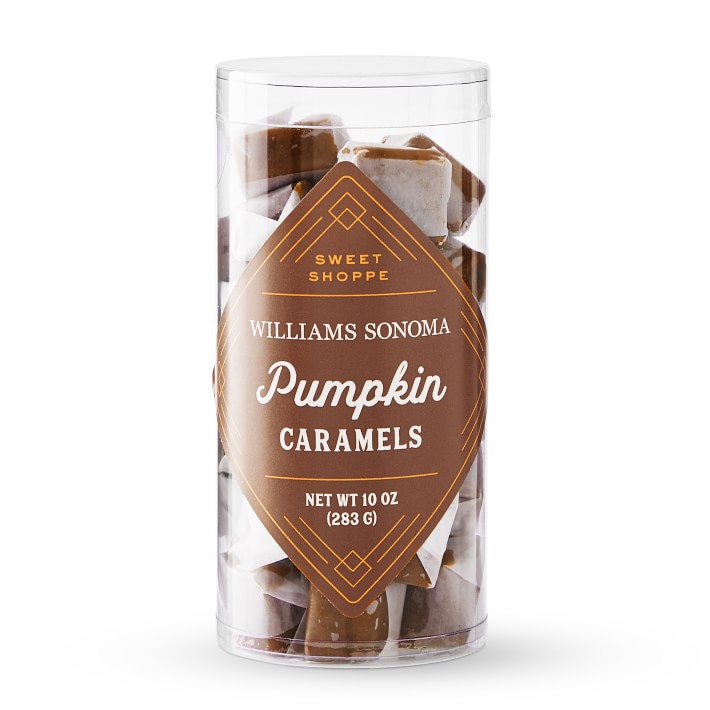 There's nothing creepy about these caramels for Halloween. In fact, we think they're downright magical! Try these caramels that taste like pumpkin pie and this tin of pumpkin spice caramels. Or sink your fangs into these pumpkin paws — a soft caramel mixed with almonds and covered in chocolate.
Scary-Smart Ways to Serve Your Halloween Candy
Whether you're handing out your candy to trick-or-treaters or throwing a monster bash for all your friends, you need a festive way to serve your sweets. This large black cauldron serving bowl is great for stashing candy for the kids, and this owl serving bowl would be perfect for those chocolate owls. And while this Harry Potter Hedwig jar is intended for cookies, we think it'd be a wicked table centerpiece for your Halloween confections. Our favorite way to serve candy to guests, however, has to be a candy board. It's like a cheese board, except filled to the brim with all sorts of candy. It's a Halloween dream!