If you appreciate a quality cocktail as much as you do a plate of well-prepared food, it's time you got to know Charles Joly. He's an award-winning bartender with more than 20 years of experience, and with the launch of his first barware collection, Crafthouse by Fortessa, he hopes to bring the same expertise that he brought to the world's best bars to your living room bar cart.
We asked the acclaimed mixologist, who has a James Beard Award under his belt and took home the crown at the 2014 World Class bartending competition, to tell us what went into the design of Crafthouse by Fortessa, his must-have pieces from the collection, and the one mistake home bartenders always make.
What's the backstory behind the Crafthouse brand?
Charles Joly: You can go to a store and get professional-quality cook's tools, the very same knives and pots and pans that chefs use, but not for barware. While there are many bar tools on the market, I can't think of a single one of my unique bar tools that I've actually bought at a retail store. You have to go to a specialty website in order to find the stuff that bartenders actually use. I'm excited to be bringing the first line of widely-available, professionally-designed barware to the market. These tools are designed with my 20 years of experience.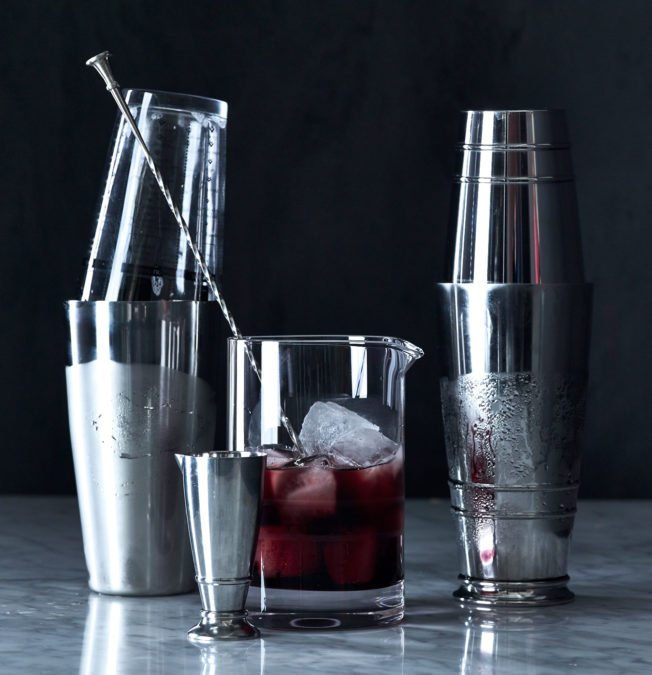 Talk about some of the details on your barware collection that embrace both form and function.
CJ: The tools I've used in the last 10 years in bars are a lot of the same tools I see bartenders use all over the world, and they're very utilitarian. They're boring, quite honestly. We've designed this collection so every design detail is also functional. Take the Boston shaker, for example: We went with a foot on the bottom of it, which was a design cue through the Twenties, Thirties and Forties in cocktail shakers. It gives you a place to rest your fingers but also adds nice lines to the piece. And then, on the inside, there are two-ounce, four-ounce and six-ounce measurement lines as well, so if you wanted to use your tins as an a la minute measuring device, you have these exact measures for adding simple syrup or other ingredients. Similar details carry throughout. In the Double Old Fashioned glass and the Collins glass; that first line is an exact two-ounce measure, which is the most common. If you're going to pour yourself a glass of whiskey in the Double Old Fashioned glass, that is the standard pour that one would do, and it's a great line to have. And that first little lip in the jigger, which is one of my favorite pieces, is also a 1/4-ounce measure and also the perfect place for your finger to rest. We wanted people to really enjoy using this collection on a regular basis.
Your collection also has a Smoking Box, which is something we've never seen before.
CJ: It's definitely a specialty piece, and a great complement to the core of the collection—kind of like the crown jewel of the lineup. Adding smoke to food and cocktails is more than a trend: There are endless possibilities with it, and while we've seen it done quite a bit in established cocktail bars, the idea is now trickling down to a larger market. The more ways you can impact your guests' senses, the more memorable and experiential it's going to be. It allows you to add in an aromatic element, and the box is beautiful when you see it filling with smoke.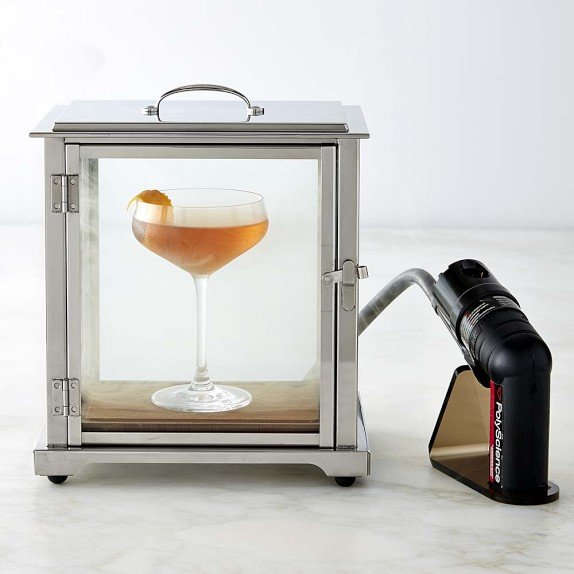 Food and cocktails go hand in hand, so hopefully there'll be great crossover in all of this and the home chef will be stealing the Smoking Box to use in cooking creations, too.
What are your favorite cocktails to make in the Smoking Box?
CJ: Take a simple brown spirit cocktail like a Manhattan and hit it with a little bit of wood smoke, and it adds a really nice layer of flavor. Also, something like a Bloody Mary is really cool. You can smoke the tomato juice, vodka or other base spirit ahead of time. Then take it a step further and double-smoke it by putting the finished cocktail inside the box and firing it up again. It's not getting heavily into the liquid of the drink, but it sticks to the glass, so you get a subtle aroma. When it comes to smoke, err on the light side. You can always add more.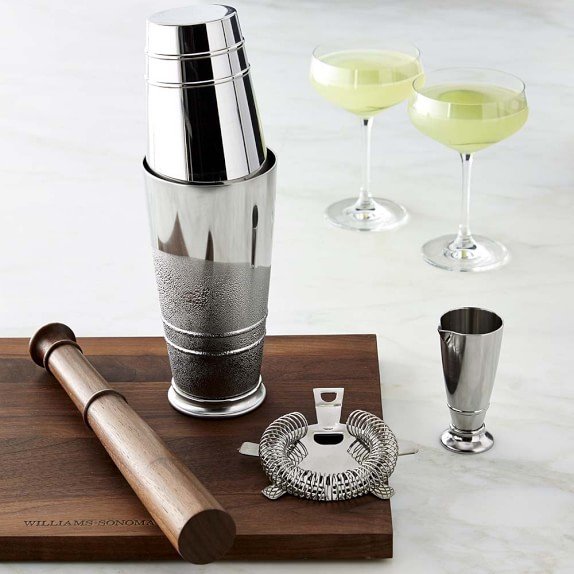 What bar tools are must-haves for an enthusiast who's new to making drinks at home?
CJ: You're probably going to start with the Shaker Set; it has a Boston shaker, jigger, a black walnut muddler and Hawthorne strainer. Those are the things you really need to get started. That will take care of the shaken cocktails, the larger family of drinks. That said, the stirred, more spirit-forward cocktails are as popular as ever. The Mixing Glass Set—a mixing glass, bar spoon, old-fashioned glasses and julep strainer—is your next step.
Many people who are good cooks are surprisingly intimidated by making cocktails. What words of advice can you offer to encourage these people to make more drinks at home?
CJ: Don't be afraid! It's actually more forgiving than cooking. It's equally as fun, and with quicker payoff. You can work on a cocktail and it'll only take you five to 20 minutes. If it's not that great at the end, worst case you have a so-so cocktail. It's not like you worked on a soufflé all day and then burned the top or something. It's actually more forgiving and rewarding.
What do you think are some of the biggest mistakes that home bartenders make?
CJ: Trying too much too soon. Going out and trying some really complex cocktail from someone who's been doing this as a career, and then going home and trying to make an eight-ingredient drink with house-made ingredients. Walk before you run. Learn the basics: Three-ingredient drinks have become timeless for a reason, because you can make them anywhere, they're replicable, and they're delicious. Learn those as a foundation, then move on to bigger challenges.
And: Remember that taste is extraordinarily personal. Recipes are always guidelines. Don't be afraid to tweak things to your taste, and taste as you go. Learn how to adjust accordingly.
What's your desert island cocktail? 
CJ: A really classic daiquiri with a blend of rums, fresh lime juice and a dash of Angostura bitters.
If you could only drink one spirit for the rest of your life, what would it be?
CJ: I'd be out of work! The beauty of our world is that we have more choices than ever right now. We're in the best time in history to drink and eat.
Shop all of our Crafthouse by Fortessa bar collection here.