We're highlighting some of America's most esteemed food makers and innovators. Today's featured artisan: Mike Whitehead, founder of FINEX Cast-Iron Cookware Co.
"I was raised in my father's metal fabrication and welding shop, so you could say I grew up with iron in my blood," says Mike Whitehead, founder of FINEX cookware. Inspired by his love of vintage cookware, he wanted to bring heirloom-quality cast-iron pan production back to America, but with a reimagined shape and useful features.
Whitehead founded FINEX in 2012, and today, the cookware company is a small team of just a half a dozen full-time employees. To produce their cast-iron cookware, FINEX partners with the few American foundries that are still melting gray iron to pour over sand castings within driving distance of the company's headquarters in Portland, Oregon, where each piece is polished, individually seasoned and assembled.
We caught up with the cookware founder to find out why he's so fanatical about cast iron and what makes his designs so special.
What drove you to make modern heirloom-quality cast-iron cookware? 
MW: Cast iron is unmatched for searing, grilling and sauteing perfectly tender yet crispy foods, from pancakes to vegetables to steaks. The problem is that typical cast-iron skillets have rough, sand-textured cooking surfaces and handles that are pretty much designed to burn you, and they aren't exactly objects you would leave out on your kitchen cooktop to admire. Decent antique skillets are hard to find, and they look like they belong in a museum.
What I love about cast-iron cookware is how people develop these deep emotional attachments as they get better with time. Not a week goes by where someone doesn't say to me, "My sister and I got into a huge fight. She got my great-grandmother's skillet instead of me and I just started talking to her again." People never say that about their great-grandmother's saute pan—they just don't.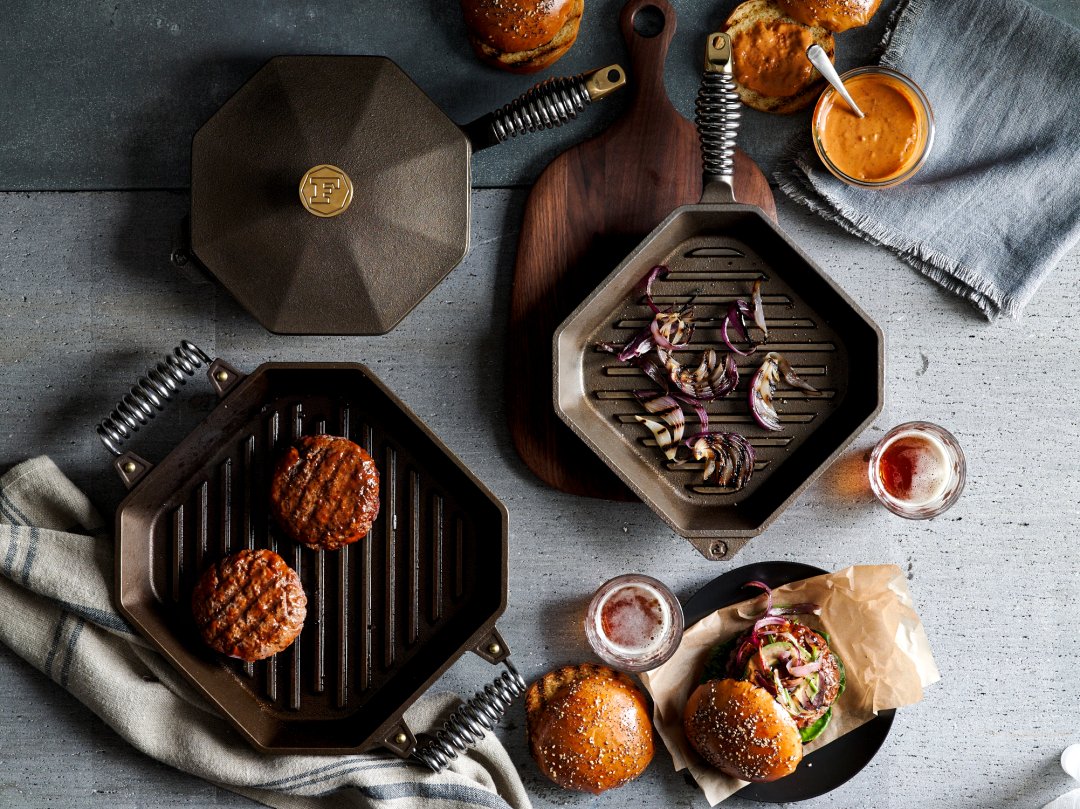 You've spent a lot of time and effort on the design of your cookware, from its signature octagonal shape to the handles and even the logo. Can you walk us through the anatomy of a piece?
MW: I partnered with an industrial designer named David Lewin. At first I wanted an octagonal shape, just to break a few rules like you do when you are inventing a new recipe. Then we 3D printed it and couldn't stop staring at it as a study in symmetrical angles. We thought it looked sharp and stood out in the kitchen. Ultimately, we chose it because it had actual design advantages. When you're on a crowded grill-top, it allows you to pour from six different sides. It also makes it easier to pour without putting those little drip spouts on, which really just drip more than pour.
From a design perspective, we put a lot of effort into the logo. There is a reason cast-iron collectors hang their favorite skillets on the wall with the maker's mark showing. [Designer] Aaron Draplin wanted to see his work in a medium like iron that will outlast us all and get even better with time.
We really like our spring handle—we borrowed that from some of our old wood stoves. We figured if that works for a wood stove, we should try it on our skillet. It's actually become a defining feature for us. The spring handle is barrel-shaped—it's basically a whole series of different diameters—so that it fits any hand. If you have a big hand, it feels good, and if you have a small hand, you can still get a grip on it. The brass end cap has a big hole in it so that you can hang it on a nail or a wall. We added that for functionality. Then there's a little helper handle that is on the north end of the skillet. That's so you can use your left hand when you're loading it in or out of the oven.
We realized that when we put a lid on the skillet, it also kept the steam in, and steam is flavor. Our lid is domed and has drip rings underneath it. Drip rings collect the condensation that comes out of whatever you're cooking and direct it back onto the food. We use brass knobs [on the lid]. They're barbecue-safe and meant to last forever.
What's something that people don't necessarily think to cook in cast iron?
MW: What people really forget to do is to bake in their cast-iron cookware, especially larger sizes. When you bake bread or cake or cornbread, you get fantastic crumb all the way around whatever you're baking. Even a rustic peasant bread or no-knead bread I just can't imagine not baking in cast iron. And then they forget to use their cast iron on their barbecue.
What's your favorite thing to cook that results in a beautiful, octagonal shape? 
MW: Definitely cornbread! I like to add things to my cornbread: actual kernels of corn, or some cinnamon, or diced chiles. Sometimes I'll do a pretty sweet cornbread where I'll add raisins or dried cranberries. Or cornbread stuffing—it's fantastic.
If you weren't making cookware, what would you be doing? 
MW: I would be a pilot, or I would own a pie bakery. I would use Oregon fruit. We have some of the best fruit.
Time for a lightning round! Cast-iron cleaning: soap or no soap?
MW: One drop of soap.
Acidic tomato sauces in cast iron: yay or nay?
MW: Tomato sauce is fine!
Cast-iron cooking: lard or olive oil?
MW: Olive oil.
Cast-iron utensils: wood or metal?
MW: Metal! I really love flexible stainless-steel spatulas.
Hear more about Mike Whitehead's story in the video below, then shop all of his cookware in our Williams-Sonoma FINEX Shop.