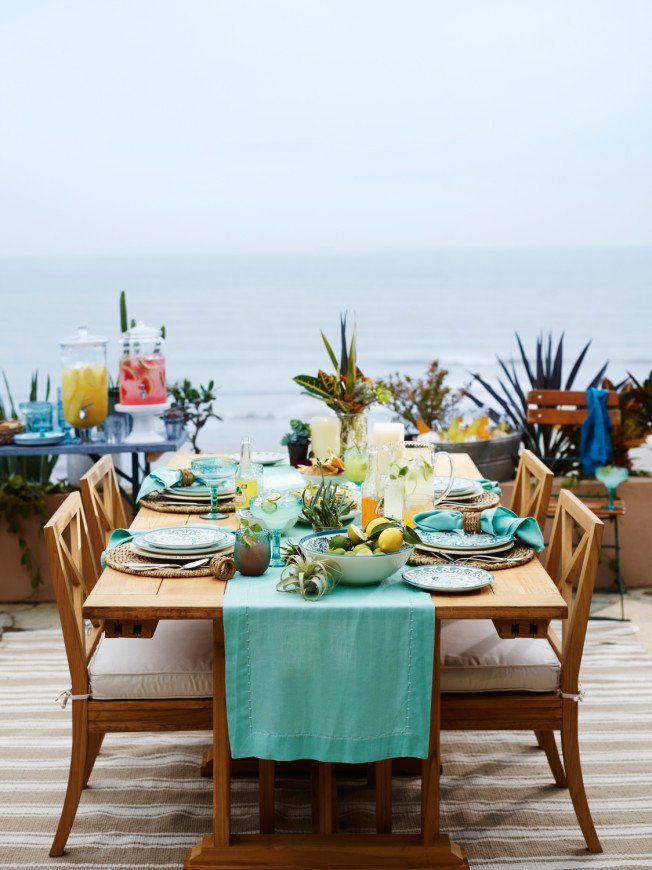 'Tis the season for backyard dinners, cocktails on the deck, pool parties and breakfast on the porch. If you're lucky enough to have an out-of-doors space to call your own, then don't miss the opportunity to entertain; summer is so much richer with backyard dinners, breakfast on the porch, cocktails on the deck, and pool and garden parties.
First things first: You'll want to make sure you have a high-quality set of outdoor dining furniture, made of sturdy, durable material that can weather the elements. Once you've got that squared away, invest in these six must-haves, and you'll be ready for any alfresco occasion.
1. A Good Grill
All great food get-togethers start at the stove, only in the case of outdoor entertaining, that stove is a grill. Our 4-Burner Gas Grill is no ordinary grill: it boasts high-BTU cooking systems, is made of weather-friendly stainless steel, and comes with a side burner, a rear infrared burner, a motorized rotisserie, and even a built-in bottle opener. Word to the wise: invest in a protective grill cover while you're at it.
2. Wine Glasses That Won't Shatter
There's a time and a place for hand-blown sparkling crystal stemware, but that bocce ball happy hour isn't one of them. Avoid breakage with stem-free, shatter-resistant glasses that can withstand a windy evening or a poolside spill.
3. A Set of Sturdy Grill Tools
A set of quality grill tools—like this basting mop, fork, slotted spatula and tongs—will make any project over an open fire so much easier. This set boast extra-long stay-cool handles, loops for hanging and a case for tidy storage.
4. Dinnerware Designed to Stand Up to the Elements
Stock up on dinnerware that matches a comfortable, easy summer style. We like these place settings, which look like traditional, hand-painted Mexican pottery but are actually made of durable melamine and also dishwasher-safe.
5. A Fish Basket
The next best thing to eating seafood right at the shore is eating it hot off the grill. Get your hands on a good grilling basket—we love this flexi-basket—so you can serve delicate seafoods like whole fish right from the fire.
6. Drink Dispensers
Avoid getting up constantly to refill pitchers by investing in a sturdy (and attractive) beverage dispenser. A tall, footed style is ideal for a large crowd; for something sturdy, try a version that's printed with hand-etched-style designs, but made with acrylic.