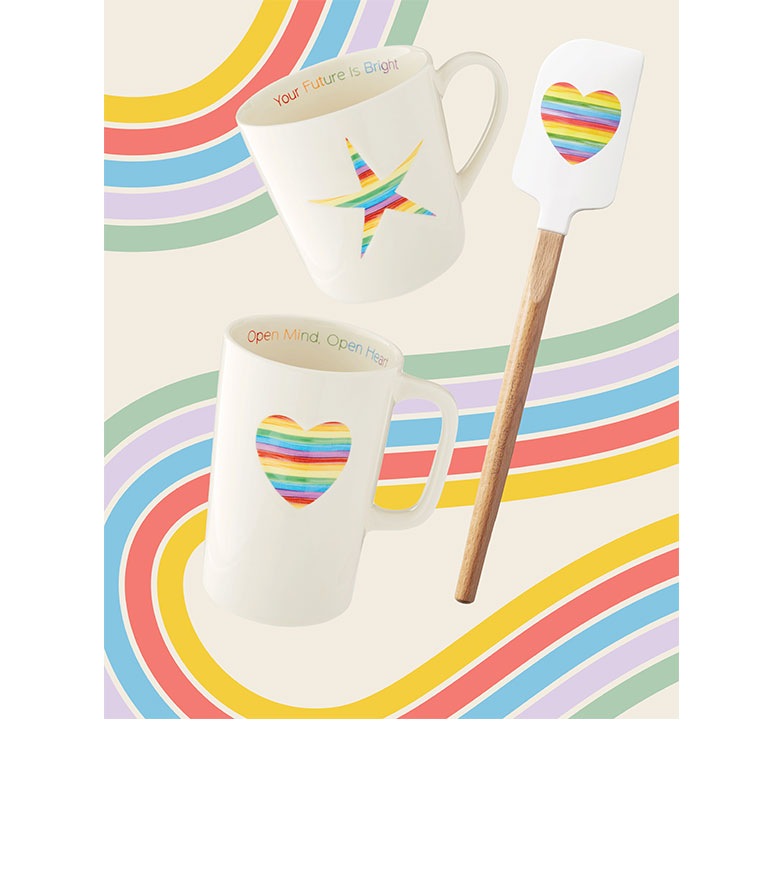 Pride Month is here, and we're thrilled to partner with The Trevor Project, an extraordinary organization helping youth worldwide. The largest suicide prevention and crisis intervention organization for LGBTQ young people, it's an amazing resource that launched way back in 1998. (If you or someone you know is feeling hopeless or suicidal, their trained crisis counselors are available 24/7 at 1-866-488-7386 via chat www.TheTrevorProject.org/Help, or by texting START to 678678.)
We're raising money, hosting a drag queen cookoff, and launching a new line of products to raise awareness of The Trevor Project. (And we're donating 50 percent of the proceeds directly to the Project!)
"We're so excited for LGBTQ young people to recognize these products as they become mainstays in accepting, supportive homes across the country," said Muneer Panjwani, Head of Corporate Development for The Trevor Project.
Ryan Ross, President of Williams Sonoma, adds, "Our company values diversity and inclusion, and we are proud to partner with The Trevor Project whose work continues to be so important to LGBTQ young people across the country."
LGBTQ youth are at four times the risk of suicide as compared to their peersit. Up to half of all trans people make a suicide attempt over the course of their lives. With its innovative education, research and advocacy programs, The Trevor Project has been a real haven for a community in need. Born of a one-man show, "Word of Mouth," by James Lecesne in 1994, it was transformed into an Academy Award®-winning short film called "Trevor" in 1998 by producers Peggy Rajski and Randy Stone. On the night it premiered, they launched the Trevor Lifeline, the first national crisis intervention and suicide prevention line for LGBTQ youth.
Since then, hundreds of thousands of young people in crisis have reached out to The Trevor Project's multiple life-saving, life-affirming resources. Those include Trevor Lifeline, TrevorChat, TrevorSpace and Trevor Education Workshops.
We want to help, both by raising money and awareness of the project—and in turn help you celebrate the queer people in your life. Consider showing solidarity with beautiful mugs, candles, spatulas and the like ornamented in the iconic rainbow of Pride.
Want to chip in? You can, in one of four ways, right now. Donate straight to The Trevor Project here. Buy something and show your Pride and support at home. Train to work the hotlines alongside the heroes currently doing so. Or virtually attend our third annual Drag Queen Cookoff, co-hosted by "Top Chef"'s Melissa King. Juanita MORE is going wig-to-wig with Sister Roma, and it'll be something to see! Buying a ticket earns you the right to vote from afar.
"Our family of brands continues to unite to support charitable causes that matter to our employees, customers and the communities we serve," said Laura Alber, president and CEO of Williams-Sonoma, Inc. "We look forward to raising funds and awareness of The Trevor Project's mission and life-saving services."
So donate if you can, get your Pride on with inspiring merch, and think about volunteering. And don't miss our drag show! It is going to be truly fabulous.
LEARN HOW YOU CAN SUPPORT THE TREVOR PROJECT HERE.