This Thanksgiving we partnered with Haven's Kitchen, a cooking school, event space and café in New York City, to host a Thanksgiving feast with friends. Read on to learn more about what each guest brought to the feast.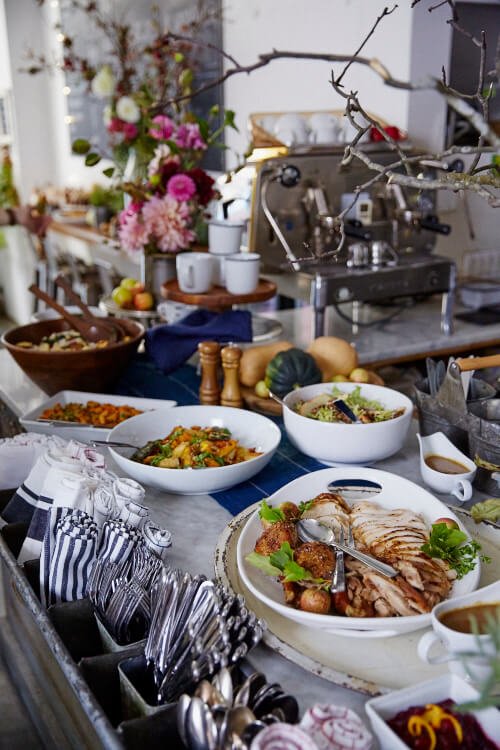 "When I was younger I thought that everything had to be perfect on Thanksgiving," says Alison Cayne, owner and founder of Haven's Kitchen in New York City. "I'd set my alarm for 7 a.m. so I could start cooking first thing, and I always cooked way too much food."
Her vision, which she describes as "everyone with perfectly combed hair, sitting at a table overflowing with beautiful food" never seemed to fully materialize. "But that was a good thing for me, because once I gave up how it was 'supposed' to be and just embraced how it really was, I became a much better cook and a more comfortable host."
Her game-changing strategy? Make three or four dishes and have potlucks to let guests bring their own sides. "It saves some angst and it helps everyone feel really involved."
At her most recent Thanksgiving gathering, friends were instructed to bring seasonal sides, inspired by autumn's farmer's markets. As the guests trickled in to Haven's Kitchen one by one, Cayne wasted no time pouring the wine and having every guest tie on an apron. Soon enough, everyone was gathered in the kitchen, putting the finishing touches on their dishes and trading stories of fall traditions in their homeland including a turkey-free Thanksgiving in India or an Autumn Glogg (mulled wine) in Sweden.
Here, each guest breaks down their dish and explains why it works so well for a Friendsgiving gathering.
ALYSSA & PAULO
Married at Haven's Kitchen
Their Dish: Smoked Trout Deviled Eggs
Why it Works: "Deviled Eggs are easy to make at home and carry to the party, and you only have to do minimal prep work once you're there," explains Paolo. "Plus, they are salty enough to encourage drinking, which allows you to catch up with your aunt or talk politics with your uncle."
KATHRYN
Assistant at Haven's Kitchen
Her Dish: Roasted Sweet Potatoes with Hazelnut Gremolata
Why it Works: Both the sweet potatoes and the gremolata can be prepped ahead. "The gremolata is made with parsley and lemons so it adds a fresh, brightness amidst all of the heavy food on the Thanksgiving table," says Kathryn.
KRISHNENDU
Food Studies Department Chair at NYU and Cayne's former professor
His Dish: Roasted Brussels Sprout and Raw Kale Salad
Why it Works: The Brussels sprouts in this dish are "roasted" on the stovetop, leaving the oven free for more important tasks (like the turkey). Krishnendu, who is originally from India, brought the salad because the traditional Thanksgiving flavors, like pecans and Brussels sprouts were entirely new to him when he first arrived in the U.S.
FILIPPA & NICOLAS
Classmate and friend of Alison Cayne
Their Dish: Autumn Vegetables with Miso Browned Butter
Why it Works: The vegetables can be served room temperature, so you don't have to spend a lot of time in the oven. Then, warm the miso-based dressing before you drizzle it over the vegetables. (You can easily leave out the cilantro if you have cilantro-averse guests at the table.)
LAURIE ELLEN
Haven's Kitchen Pastry Chef
Her Dishes: Fig & Honey Hand Pies and Charoset Bundt Cake with Créme Fraîche Glaze
Why They Work: This charoset-inspired cake takes apples to a different, darker place than just the typical "apple pie" application. It can be carried to the party sans glaze, and then finished once it has found its place on the dessert buffet. The hand pies, meanwhile, are easy to transport and can even be passed out as take-home favors to guests that are too full to enjoy them after dinner.
Get the full menu and read more about Thanksgiving with Friends at Haven's Kitchen.