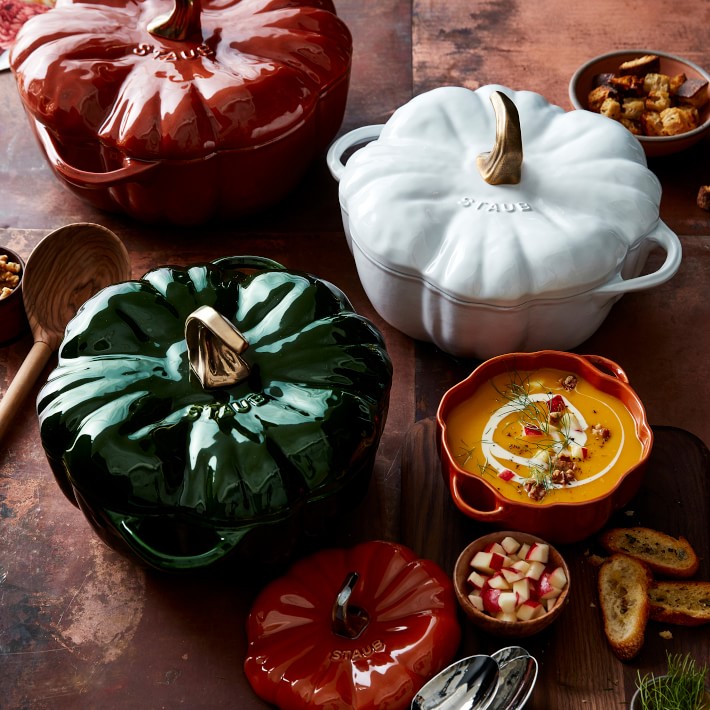 When the weather cools down, our ovens heat up. Fall cooking isn't just soups, stews, muffins, and casseroles — it's also Thanksgiving, and all the joys and stress that come along with that. While this year might look a little different, there are a few ways to make it all feel more special. After you stock up on some year-round essentials, kick your fall cooking into high gear with some of our must-have tools. From the most beautiful pumpkin-shaped cocotte, to a classic pie dish that was practically made for the holidays, these 10 products will help you fall back in love with cooking this autumn.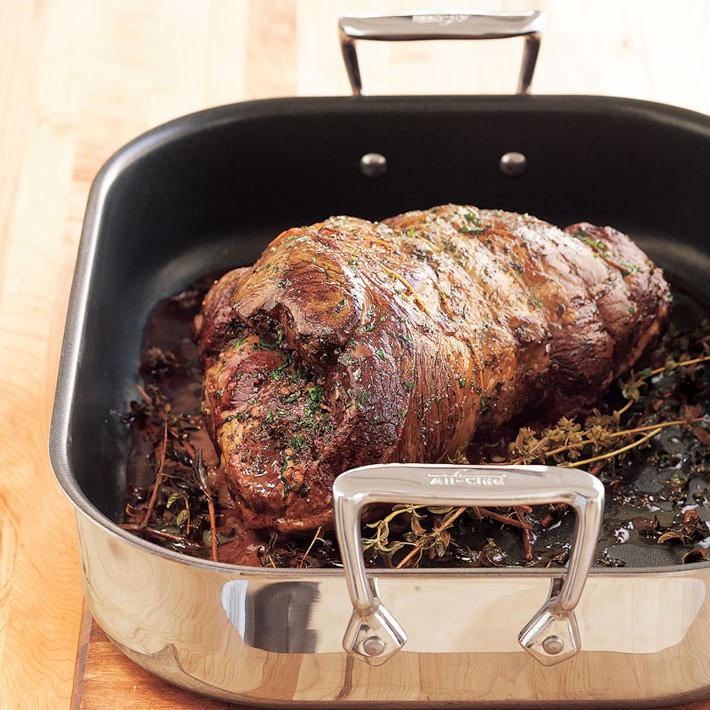 Make Thanksgiving a little more memorable and treat yourself to something nice like this classic roasting pan and rack. It's great for turkey on the Big Day, but also ideal for any roasts you're planning on for the holiday season. The stainless-steel pan has high sides to reduce splatter, handles to make moving it in and out of the oven easier, and a non-stick surface to make cleaning up a breeze.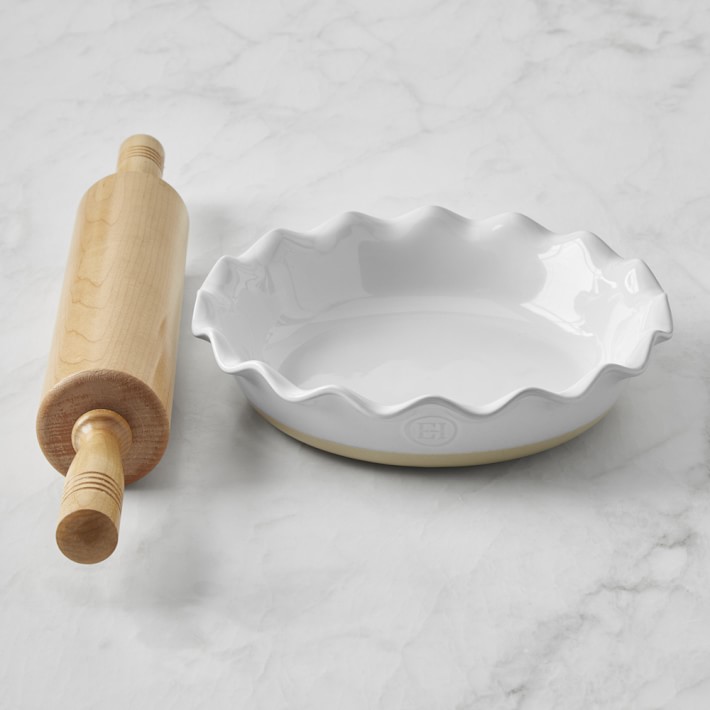 This is the year you're going to make really, really good pie. No matter how many people are at your Thanksgiving table, pie will be served. Pumpkin pie, cranberry pie, apple pie, pecan pie — all the pie. And in order to set yourself up for success, you need some of the best tools. This classic, ruffled Emile Henry pie dish is a blank canvas for whatever you want to make, and the accompanying maple rolling pin makes preparing your dough easier (and chicer).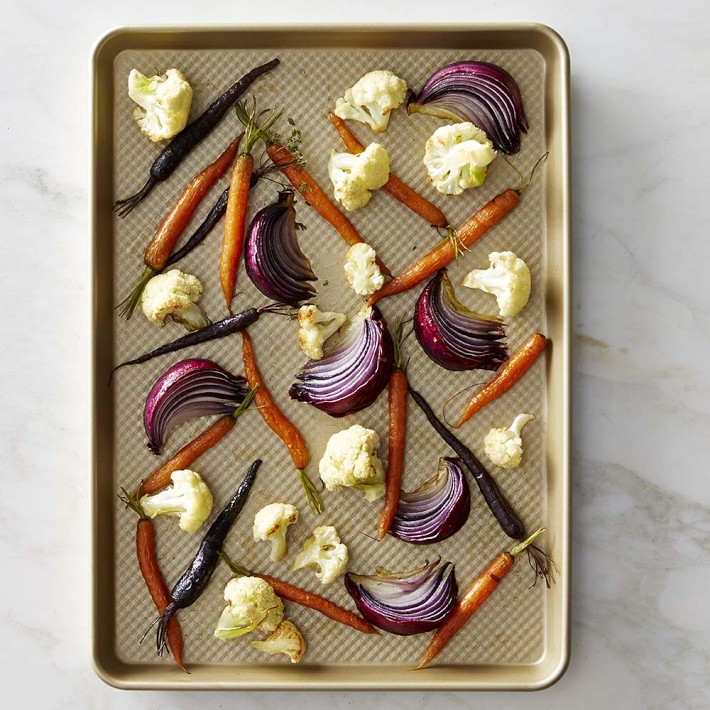 A good sheet pan is the gateway to some of the easiest, most delicious fall meals. From chicken with broccolini to beef fajitas, a sheet pan is essential for weeknight dinners. That's why we're smitten with this Williams Sonoma sheet pan. The heavy-duty pan heats quickly, and the non-stick makes it easy to clean up. The textured surface also helps increase airflow around whatever you're cooking for even baking.
Set your table for Thanksgiving with these porcelain dinner plates this year. It's the perfect tableaux for your turkey, mashed potatoes, and stuffing! The plates are inspired by 18th-century English transferware patterns, and include a richly-hued turkey and decorative oak leaves and acorns. Complete the look with stylish salad plates, mugs, and platters from the same collection.
Every fall soup wishes it were lucky enough to be served in this gorgeous pumpkin-shaped cocotte from Staub. It's both beautiful and practical: The cast iron retains heat, and the enameled interior improves the browning of ingredients. The "stem" of the pumpkin is made of solid brass, and the pot itself comes in three different colors (white, orange, and black). This would be a great piece to bring for a BYO Thanksgiving dinner, because it transitions so well from kitchen to table.
You might not use a carving knife or fork every day, but when you do you'll be glad you have them. This attractive set from Wüsthof is something you'll have for many years to come. The knife is curved to help with cutting around the bone, and the fork holds whatever meat you have in place for smoother carving.
However you make you Thanksgiving gravy — make-ahead, or with the day-of pan drippings — you'll need a gravy boat to serve it in. This sleek option from Pillivuyt has a smart warming base so your gravy never gets cold and lumpy at the table. All you have to do is light a tea candle and place it in the stand when you're done making the gravy. The large handle makes it easy to pass around the table, and the narrow spout ensures you'll pour the gravy where you want on your plate.
This casserole dish will be one of your most-used kitchen tools in the fall. It's great for everything from mac and cheese, to green bean casserole, and cobbler. The piece is scratch- and stain-resistant, which means it will continue to look new for longer. It's also durable enough to go from the fridge to the oven to the table — a true renaissance man of the kitchen.
A beautiful table setting can be the difference between an average dinner and something more noteworthy. For this fall (and Thanksgiving!) we love this acorn-patterned tablecloth and matching napkins. Made with a cotton-linen blend, it will look stunning draped over your table, and is machine-washable in case of spills.
Is the turkey done? Is your roast safe to eat? Take some of the stress out of fall cooking and invest in this smart thermometer. The leave-in probe connects with your phone or tablet to let you know when something is done cooking. The preprogrammed setting lets you choose from a variety of different meats and desired doneness. It also works as a standard probe thermometer if that's what you need, too.