There's no way to celebrate Easter—and the arrival of spring after a lengthy winter—than with a verdant midday meal. This one, developed by the cooks in the Williams Sonoma Test Kitchen, is filled with fresh twists on Easter favorites, like ham, scalloped potatoes and spring peas.
Check out the menu with recipes below.
The Menu
Kick off the meal by offering adults Kir Royales in elegant Champagne flutes (let kids in on the fun by offering them glasses of sparkling apple cider). Leave out a platter of Smoked Salmon Crostini with Fennel and Dill for guests to snack on as you add final flourishes to the rest of your showstopping meal.
A tart is our favorite way to highlight spring produce, and this Puff Pastry Tart with Asparagus and Burrata is no exception. It's even prettier when drizzled with the the finishing touch: a balsamic glaze.
Show your guests how much spring salads can rival their summer counterparts when you present this crunchy and creamy Spring Pea Salad with Radishes and Goat Cheese on an garden platter.
Hot cross buns, invented by Anglican monks in the 12th century, are synonymous with the holiday.
Make this year's pièce de résistance a bone-in beauty that's scored, glazed, and studded with cloves to look particularly showstopping. Scoring this Ham with Lemon-Honey Glaze looks impressive, but it also allows the fat on the ham to render nicely and the glaze to reach the surface of the meat.
Potatoes are a traditional accompaniment to ham, and this indulgent tray of Scalloped Potatoes with Leeks will bring oohs and ahhs to the table. This gratin is flavored with leeks, a sweet allium that reaches its peak in late winter and early spring.
Move over, lemon curd: There's a new favorite homemade curd in town, and it makes for a dazzling dessert when served in a pie shell. Our Cranberry Curd Pie with Citrus Whipped Cream is colorful, delicious, and topped with candied lemon slices for an extra-bright flavor.
Ring in rhubarb season with the dessert known as a pavlova, a baked meringue topped with fruit and whipped cream, was named for the famous Russian ballerina Anna Pavlova, to whom it was supposedly served during one of her tours. In this Almond Pavlova with Strawberry-Rhubarb Compote,  we use a vanilla bean–scented crème anglaise in place of the whipped cream.
The Setting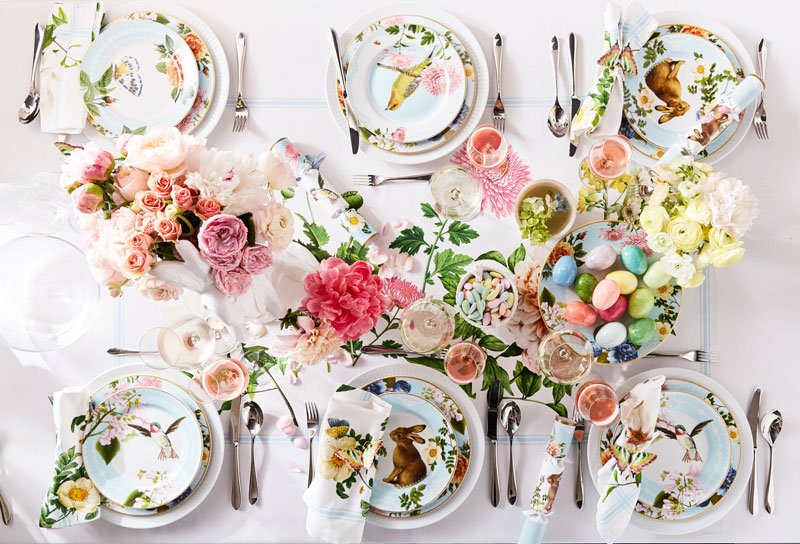 Set the table with the cheeriest dinnerware you can find; this year, we're opting for pale sky blues and varying tones of pink to play up the pastel motif of Easter (see our Spring Garden Dinnerware Collection for more).
If you're opting for a more casual celebration, keep the look classic yet festive by pairing basic white dinnerware with a few thoughtful details, like a glass vase of fresh tulips or peonies, or a pair of white tiny taper candles. Add another pop of color (and channel the Easter egg hunt at the table!) by filling a ceramic bunny bowl or two with Médicis candied almonds or decorative alabaster eggs.
For more entertaining inspiration, see our Easter Guide.