There are people who like cocktails, and then there are people who love cocktails. You know the type. It's the person who always has a stocked bar cart, the best glassware, and will insist on going out of their way for a special ingredient. These people also know it's not just enough to have the right kind of booze, you also need the right tools to make a great drink! You wouldn't think about making a Martini without a shaker, or a Mojito without a muddler. And that's just the beginning. From the most elegant smoking box to an ice ball press kit, here's some of the coolest tools that any cocktail fanatic would love to play with after 5 o'clock.
Here's a cool party trick: Infuse your own cocktails with a smokey flavor thanks to this incredible smoking box! It doesn't matter if you're a novice or expert drink maker, this smoking box makes playing around with your cocktail a breeze (and it's super chic).
Outside of the actual ingredients for the drink and a good glass, the next thing you need to make a great cocktail is a bar tool set. This sleek one from includes a shaker, jigger, strainer, garnish knife, ice tongs, and a stirrer. Basically: Everything you truly need to make a great cocktail! Bottoms up.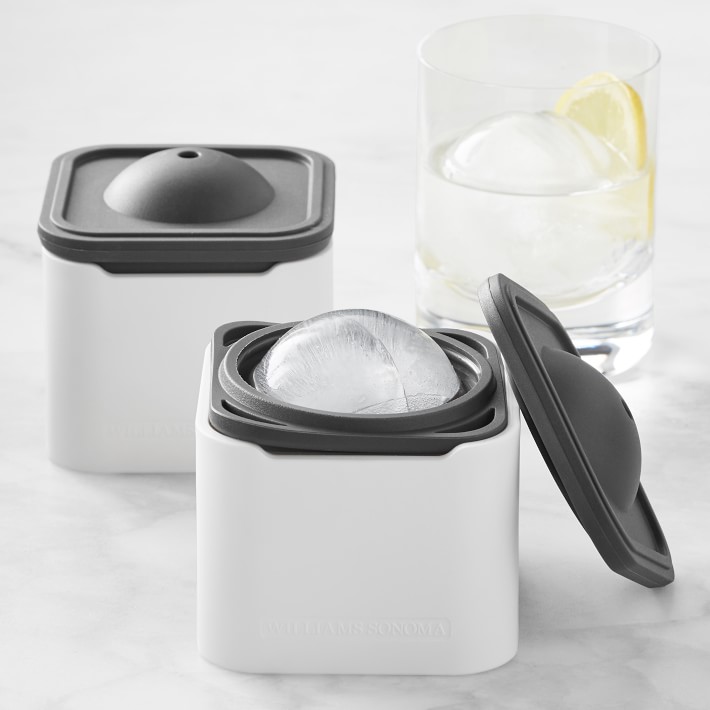 One of the major things you'll notice at any great cocktail bar is the special attention they give to their ice. Using the right kind of ice for a drink will alter how a cocktail will taste and improve the overall experience. These sphere ice molds create large ice cubes, which means the ice will melt slower and they won't dilute your drink. And if you're looking for large square cubes, these silicone trays are also perfect.
If you're ready to expand your cocktail knowledge beyond a classic Martini and Old Fashioned, then you need a good cocktail book. This one from Williams Sonoma includes 40 recipes for modern-inspired drinks like a Grapefruit & Sage Gimlet and a Basil Julep. In addition to the drinks, the book provides easy bar snack recipes, and a guide to the best glassware and cocktail tools.
Sometimes you don't want to mix up your own cocktail. Sometimes you want someone else to make something for you. And on those special occasions, there's this delicious lime margarita mix. Made with lime juice, mandarin orange juice, and natural agave syrup, you can feel good about adding this to your glass (just don't forget the tequila). And if margaritas aren't your thing, try this grapefruit orange Paloma mix from Casamigos, or Trisha Yearwood's "Summer in a Cup" mix, which is essentially a blend of cherry, pineapple, and tangerine juice.
For the cocktails that are better stirred, not shaken, you'll need a nice mixing glass. This vintage-inspired set includes 19-oz. mixing glass, two Old Fashioned glasses, a bar spoon, and a julep strainer. These will all look great sitting out on your bar cart!
Luxardo maraschino cherries are, well, the cherry on top for any great cocktail! These Italian cherries are dense, chewy, and just the right amount of sweet. They're great in Manhattans, Last Words, and of course a non-alcoholic Shirley Temple.
If you think ice spheres are cool (and they are, of course!), then you'll likely want to investigate your many other options for statement-making ice. Beyond the silicone mold for this skull cube, check out molds in the shape of rosebuds, bulldogs, Star Wars' Death Stars and Darth Vader, Harry Potter's snitch plus many more.
Pineapples are the symbol of hospitality and what could be more welcoming than a freshly shaken, ice-cold drink? Add some flare to your bar cart with this beautiful pineapple-shaped shaker. It's made out of stainless steel and it comes with a built-in strainer for your drinks. If pineapples aren't your thing, there's also one shaped like a bulldog, or an airplane, and even a gnome.
Whether you're adding mint to your Mojito, or citrus to your Lemon Drop Martini, you're going to need a muddler to help you properly break your ingredients down. We love that this classic one has two ends: One end is made out of marble, and is great for muddling citrus; the other end is made of wood, which is great for fresh herbs.